1. That 70's Episode (Prue meets her younger self)
2. Forever Charmed (Piper is comforted by Leo after the fight)
3. Out of Sight (Phoebe is spotted by a Grimlock)
4. The Fifth Halliwheel (Paige gets suspicious when Cole brings home a new car)
And the winner of this round is:
CONGRATULATIONS!
Current Results:
Amethystian - 4 Points
Ashmh - 1 Point
The answers for the Picture Trivia Challenge are:
without directly telling them
. This means no 'So-and-so is awesome because...' You can write fic, make vids, make icons, make picspams, make a fanmix, or organize a rec list. The point is to showcase why your favorite is your favorite.
Minimum Requirements
Fic
: 300 words
Icons:
5
Picspams:
15 pictures
Fanmix:
1 cover + 3 songs
Rec List:
10 Fics/Vids/Mixes/Graphics w/rec list title + reason for recommendation (can be as simple as 'great coloring' or 'interesting plot')
Deadline:
March 29th
You can post the entries on your own journal and link to them from here or just post them here. I've added tags for a number of characters and couples and 'entry' tags. If you're doing a favorite episode/season/power etc., I'll add the tag after you submit. Also, let me know somewhere in your post if you would like a participation banner.
If you have any questions, just comment here and I'll answer.
REMINDER: The Picture Trivia challenge closes tonight at 12PM (whatever your time zone). I'll be announcing who won and revealing the answers tomorrow. So, if you haven't done it, you can enter
here
.
This is a challenge for your favorites. This can be a favorite character, couple, power, episode, season, villain... You get the point. Pick any favorite and let people know what's so great about that favorite
Instructions
Leave a comment to this entry that includes something you want to see/read.
Reply to others entries answering their requests.
Any rating is welcome. (Add a warning if needed.)
Gen/Het/Slash is all welcome.

How
Media type (fic, art, vid, etc.), characters/pairing, prompt

For example:
Fic or art or vid, Leo and Cole, male bonding
OR
Fic, Phoebe/Cole, Phoebe dies
Picture Trivia
Below are four screencaps. Leave a comment telling me what episode each cap comes from.
- Please remember to number them 1-4. The numbers are in the center corners.
- You do not have to answer all four. Feel free to respond with just the ones you know. (However, I'd suggest guessing the ones you don't know. You might get it right and there's no penalty for a wrong answer.)
- The comments are screened. I will announce the winners.
- DEADLINE: March 1st
(Click for bigger view)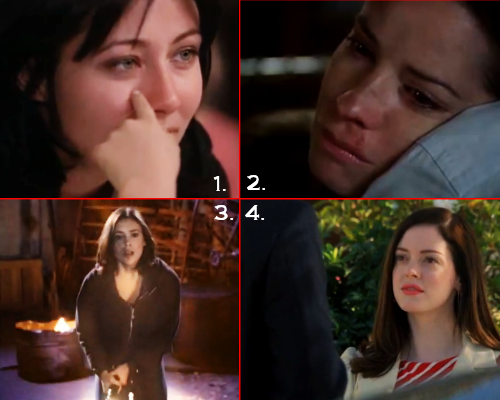 Additionally
I'm considering turning this into a continuing contest. Each picture would be worth a point. The winner will be the first to reach twenty points (that's about 5 Picture Trivia games). Please tell me in your comment whether you're interested in doing this.
Note: You won't have to be competing in the continuing contest in order to play. I'll still announce winners for each round.


To start out the community, here is a place for everyone to introduce themselves. Please use the template below and reply in the comment section:


Welcome to Charmed Challenges.